2023 Catherine Durda Award
The Catherine Durda award is given in memory of Catherine Durda, the first female chair of the NAFTZ Board of Directors.  Durda was an innovative marketer and promoter of FTZs in the New York area. During her involvement with the NAFTZ, she dedicated much of her time to advancing the importance of FTZs for trade and job creation.
Each year, Grantee members are asked to submit their best marketing resources (video, printed ad, website, etc.) to be considered for the award.  Traditionally, the winner was voted on at the NAFTZ Annual Conference by conference attendees.  Beginning this year, the nominees will be presented to the entire membership, giving all members the opportunity to see the tremendous work of our Grantees and to vote to honor the materials/resources that best promote the advantages of using foreign-trade zones.
The winner of the annual Catherine Durda Award receives a complimentary registration to the next years NAFTZ Annual Conference.  The 2024 NAFTZ Annual Conference will be held in New Orleans, LA.  The link to vote is below under the submissions.
Voting closed in October 2023.
The 2023 Catherine Durda Award Nominees
Scroll down to see all 7 nominees
Submission #1
CODEZOL: Zona Libre Del Sur
Learn about the benefits of the Foreign Trade Zone 163 in Ponce, Puerto Rico.
Submission #4

-
Port of Long Beach Ad
Save with FTZ-50
https://www.naftz.org/assets/pdf/PortofLongBeachAdPDF2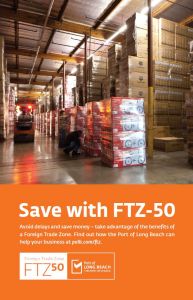 Submission #5

-
JaxPort FTZ 64 Ad
Award-Winning FTZ No. 64:
Florida's largest Foreign Trade Zone
https://www.naftz.org/assets/pdf/JAXPORT_FTZ.64.1PG.Collateral_1_Justin_Ryan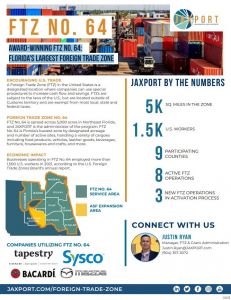 Submission #6-
State of Delaware FTZ 99 Ad
https://www.naftz.org/assets/pdf/FTZ_99_1_page_as_of_4_15_2023_1_Patty_Cannon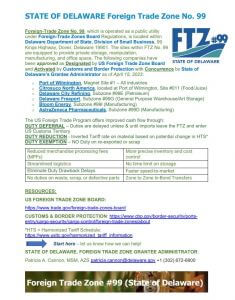 Submission #7-
Port of Corpus Christi Trifold
https://www.naftz.org/assets/pdf/Port+CC+-+FTZ+Brochure+-+1-8+Bleeds+-+VF3